How to Maintain Your Outdoor Deck
Filed under: Blog
Comments: Comments Off on How to Maintain Your Outdoor Deck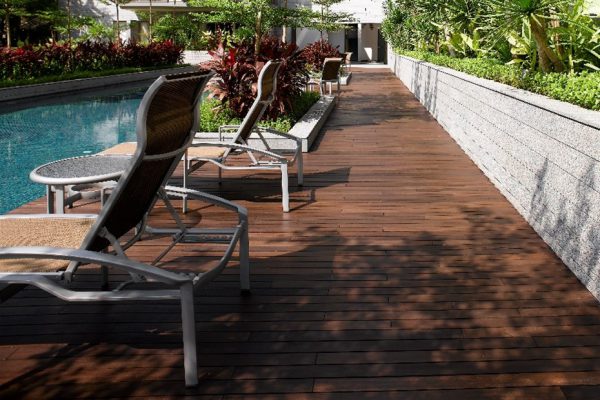 Come rain or shine, keep your deck in peak condition through these easy-to-follow tips.
Outdoor decking is vital in creating lovely and accessible environments. Think sun-drenched platforms next to swimming pools, elegant yet cosy balconies, boardwalks and walkways that whisk you through landscaped areas. All these are examples of external wooden flooring that enhance their surroundings, and guarantee that it's a pleasure to walk at and use the areas.
Outdoor decking sets itself apart from wood used for the indoors with its ability to weather the elements. Though hardy, outdoor flooring comes with its own vulnerabilities and still requires appropriate maintenance. We'll take you through the common problems, how to rectify them, and the best way to care for your decking.
Common issues of outdoor decks
You might encounter some of these scenarios if you've got wood flooring outdoors:
Mouldy deck surface: caused by consistently wet surface or sub-floor, which create conducive environments for mould to thrive
Deck end wet rot: where you'll see the ends of the wood planks rotting. As wood draws in moisture from its ends (just like a straw), these tend to rot if they do not dry out sufficiently.
Exposed nail or screw head: when subject to the sun and rain and hence different temperatures, the wood expands and contracts, causing nails and screws to dislodge
Minor surface checks: these are small hairline cracks that are also caused by the expansion and contraction of the wood
Colour fading or coating wearing off: due to exposure to the sun's Ultraviolet (UV) rays and wear and tear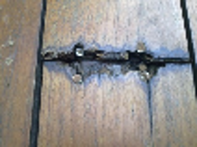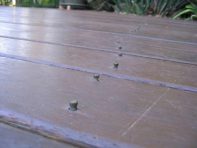 The main causes of these issues can be narrowed down to a few usual suspects. Firstly, mould and rot set in when the wood is not allowed to dry off and water does not exit quickly enough through the water outlets below the deck.
If you notice these signs, check if debris or dried leaves are clogging up the drainage system. In some cases, moisture-seeking roots could even encroach under the deck boards, blocking water from flowing out. It's therefore advisable to regularly clear your drains and floor traps and remove any obstructions at the sub-floor such as tree roots.
Next, though exposure to weather and varying temperatures is inevitable, you can minimise the impact on your decking through a few methods.
Avoid a surface-nailing system so that nails and screws won't come loose and become a safety hazard. We utilise a side clip fastening system for our deck boards. Stainless steel screws are secured directly to the battens without puncturing the deck's surface.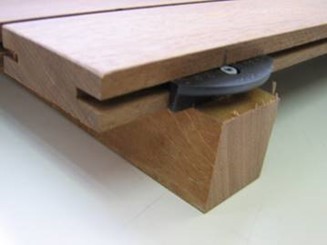 You can also regularly treat the surface of your wood flooring with dedicated deck oil, so it'll repel water and resist mould and UV rays. Such products also help to reduce cracks and colour loss.
Steps for maintaining outdoor decking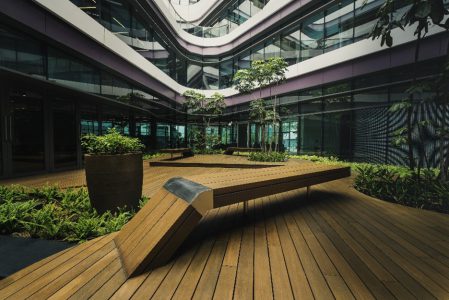 To avoid the common issues mentioned above, regularly clean and treat your outdoor deck:
Every three to four months, or at least twice a year, scrub your deck with a bristle brush of medium hardness and solution of deck cleaner and water.
Mop the deck dry with a clean cloth and allow it to dry completely.
Apply a thin coat of deck oil, such as Bona Deck Guard, on the wood along the direction of the grain and let it dry. (Check that the deck oil is compatible with the one already applied to the deck.) You can apply a second coat if required.
Finally, leave the deck to dry for at least six hours without any foot traffic. If you're leaving it to dry overnight, protect it from possible rain with a plastic cover. Pro tip: It's best to choose a sunny day to do maintenance!
Cleaning your deck and renewing its coating as above, will help ensure that it remains a durable and attractive surface for all your outdoor needs.
If you're keen to install or upgrade your decking, find out more about our range of heavy-duty hardwood for the outdoors.